July 2018
Welcome to Hayden Salway - Starting a Royal Society of Chemistry, Analytical Trust Summer studentship.
We have finally moved!!!! New labs, AC and have been welcomed back into the dept!
June 2018
Congratulations to Laura - defended her work today and passed.
Look out for Matthew Healey and Emma Blundell in Miami giving a talk at

March 2018
Matthew went to the Houses of Parliament to present his research into prion detection at the STEM for Britain Event held at Portcullis House
January 2018
Busy month with trips to
http://www.isn2a2018.com/
and hosting David Bunka from the Aptamer group
http://www.aptamergroup.co.uk/
David will be giving a talk on the 30th January in the CC021 at 3.00pm
October 2017
Welcome to Imogen Heaton
Imogen joins the group to start a PhD investigating Rapid onsite detection of radionuclides using nanoparticle and paper based assays
September 2017
Congratulations to Matthew for winning 'Best Poster' at the Bright Sparks Symposium held at the University of Bath
August 2017
Sarah features in the month's Chemistry World with her winning essay 'Chemistry in the mail: diabetic screening in Leicester'
July 2017
Emma became Dr Emma Blundell - Congratulations!!!!
June 2017
Sarah gets through to the next stage of this year's Chemistry World Science Communication Competition - Congratulations Sarah
Fully funded PhD position available to start Oct 2017
see details below:
Rapid onsite detection of radionuclides using nanoparticle and paper based assays
Aim: Develop the use of superparamagnetic particles, novel binding ligands and nanopore technologies for simultaneous detection and separation of radionuclides.
This interdisciplinary project will use state of the art nanotechnology approaches to simultaneously quantify and separate radionuclide contamination in waste streams.
Project outline: A nanoparticle in solution will move towards an electrode at a speed that is proportion its surface charge. If such a particle is designed to specifically bind to a radionuclide, then the speed at which the particles move in solution can be used to confirm and quantify the presence of the metal on the particles surface. The project will create a set of particles each capable of binding to a specific analyte. The speed and therefore the number of analytes on each particle are monitored by passing them through a small pore. The pore is large enough to allow only one particle through at a time, the speed of each particle is recorded and can be used to determine the number of analytes on its surface.
The pore technology used to quantify the analytes is no larger than a 2L soda bottle and runs alongside a laptop. The technology is portable and can be easily deployed in the field, in contrast to alternative method of detection e.g. Atomic adsorption, this offers a powerful platform for onsite, on demand analysis. The sample that is to be analysed (1-10ml) will be added to pre-prepared nanoparticles and mixed for 30 minutes before 40 ml is added into the pore technology for analysis which takes < 5 mins. The project and student will be well supported and situated within a team of 9 working on complimentary research projects, developing nanoparticle synthesis, and assays using nanopore technologies.
Informal enquiries can be made by contacting:
Mark Platt
Examples of our work can be found at http://www.markplatt.yolasite.com/publications.php
May 2017
Congratulations to Chen Hu on defending his PhD thesis!

Nikita is giving a talk at the University of Manchester: Nanomaterials: from the theory to applications
May 16th.
March 2017
Mark is talking at Analytical Biosciences 2017 event in Warwick 16th March
Congratulations to Matthew Healey coming first place in the Analytical section within this years RSC twitter poster competition.
AND!
Sarah Hampson coming third place in the same category.
January 2017
Congratulations to Emma on successfully passing her PhD viva
November 2016
Well done to Sarah who got to the final of "i'm an engineer get me out of here" (even though she's a chemist)

October 2016
Welcome to Rhush Maugi
Rhush joins the group to start a PhD investigating multiplexed assays
Also welcome to Marcus Pollard
Marcus joins the group to start a PhD developing the next generation nanopore
Congratulations to Emma Blundell, her recent work was featured in the JoVE publication
http://www.jove.com/video/54577/determination-zeta-potential-via-nanoparticle-translocation

August 2016
Those that are not left behind to smell the sweet joy of doing a PhD will be heading out to present at conferences. See Dr Platt Electrochem2016, and the Faraday Discussion: Single Entity Electrochemistry.
July 2016
The group welcomed Olivia Wilson to the laboratory. Olivia is an A Level student at De Lisle College, Loughborough and is assisting Sarah for 3 weeks as part of a work experience project.
June 2016
June has been a busy month for the group and many prizes have been won.
At Loughborough University's Graduate School Summer Showcase Laura, Sarah and Matthew won prizes in the 'University Research Themes' Competition. Laura - Best Poster in the Environment and Infrastructure category, Sarah - Runner-up in the Enabling Technologies category, and Matthew -Runner-up in the Health and Wellbeing category. Matthew also won Best Overall Poster and Delegates Choice in the Graduate School Prize category .
Sarah also won Runner-up at Science Matters, a School of Science competition, for the second year category.
Emma won third place at the Three Minute Thesis final round at Loughborough.
Well done to all!!!!
Emma is jetting off to Newport, USA to present her work at the Gordon Research Seminar - Bioanalytical Sensors being held at Salve Regina University. For more details click here
Sarah and Nikita are also on road, traveling to Glasgow to present at the 4th Royal Society of Chemistry Early Career Symposium at the University of Strathclyde (24th - 26th June). They will be giving talks entitled - 3D-printed microdevices for particle synthesis and analysis (Sarah) and Synthesis and assembly of gold particles on an emulsion droplet; nanoparticles, nanosheets and core-shell particles (Nikita). For more details click here
May 2016
Look out for us as we hit the road this summer, Laura Mayne will be presenting at the Midlands Electrochemistry Group May 26th (and looking forward to some detailed electrochemistry questions from the audience) and Mark will be presenting in Gothenburg on the 27th May (Looking forward to just getting away).
Congratulations to Emma who won 'Delegate Choice' at the final heat of the 3 Minute Thesis competition held at Loughborough's Graduate School. Emma will now go to the grand final in June to promote and communicate her research.
March 2016
Mark will be talking at the 26th Anniversary World Congress on Biosensors - May 2016 (Biosensors 2016) in Gothenburg, Sweden. He will be presenting 'Creating Aptamers and their use in Resistive Pulse Sensors'
For further details click here
Vi ses där!
The group's work was highlighted in Izon Science's Newsletter 'Tune-In'. The piece focused on the group's use of TRPS and Emma's work on DNA modified nanoparticles, which has recently been published in Langmuir.
The group spent an evening challenging other members of the Chemistry Department's analytical section to a game or two of Laser Quest. We are pleased to report the group is Laser Quest champion!
February 2016
A new PhD position is currently being advertised working within the group. This project aims to develop a new bioanalytical technology for Point of Care Diagnostics.

January 2016

Come see us talk at the 2nd International Symposium on Nanoparticles/Nanomaterials and applications

November 2015
Congratulations - Well done Emily passing her viva with minor corrections
We have recently moved into our new lab space! check us out in F008.
Detection of prion proteins using apatmers and TRPS
The Pathology Department at Peterborough City Hospital is teaming up with the Chemistry department at Loughborough University to conduct research into a new blood test to facilitate the early diagnosis of diseases such as vCJD and Alzheimer's disease.
The innovative research project will focus on using nanotechnology to develop a diagnostic kit for screening neurodegenerative disorders that result in the progressive loss of brain function and mobility.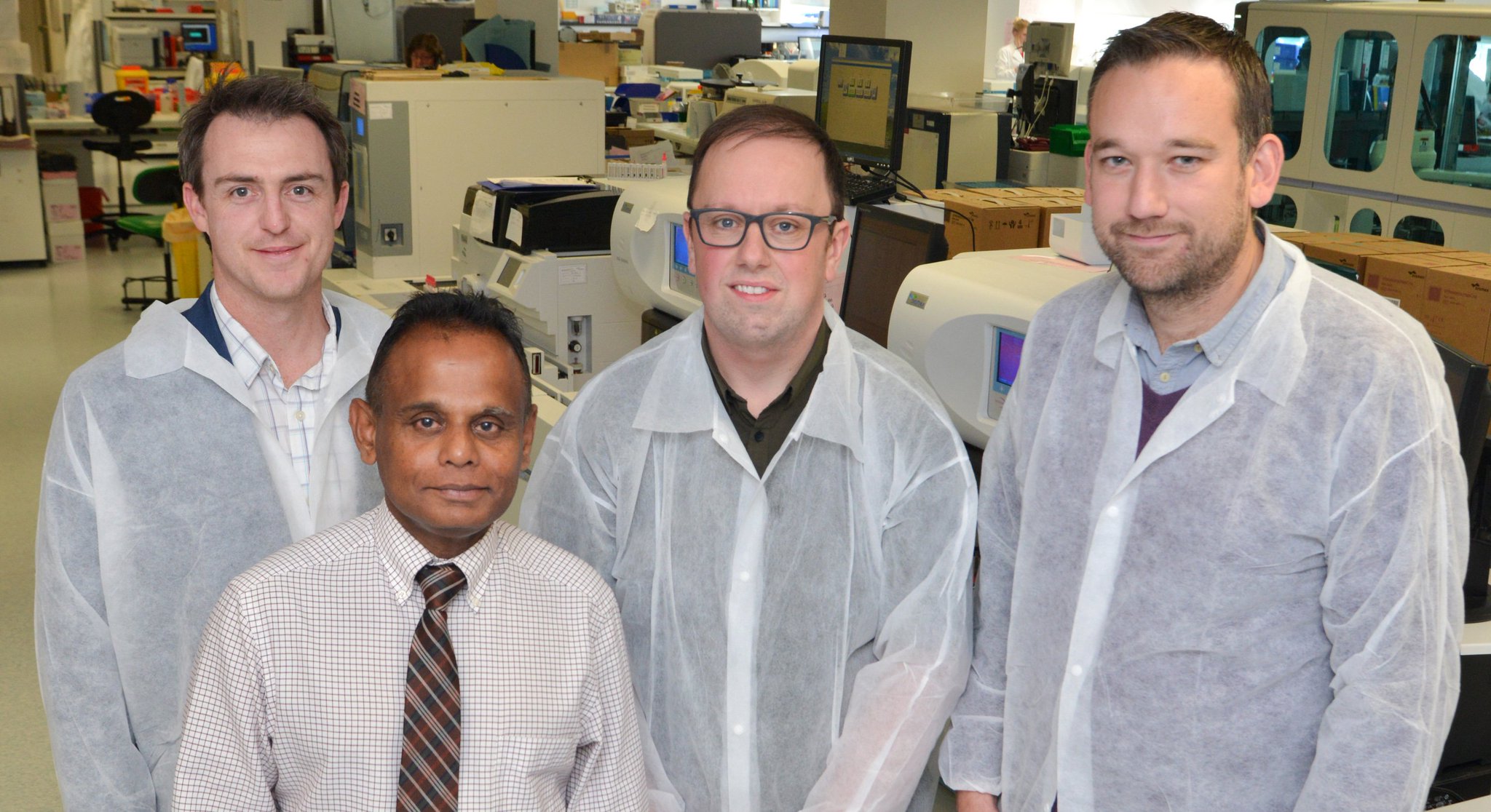 .
October 2015

Emily's latest and probably last (with me at least as she is writing up) paper highlighted in RSC analytical methods
September 2015

See Emma Blundell, Laura Mayne present their work at Izons user symposium. Mark will also be presenting before heading over to Durham for the Electrochem 2015 conference.
July - August 2015
We have Beth Holton and Rushabh Maugi working as summer interns, such keen and enthusiastic students we are so lucky.
June 2015
Congratulations to Sarah Hampson for winning first prize in the Loughborough University Science matters events. Best student talk on the day.
April 2015
We have an Analytical Chemistry Trust fund Summer studentship available - contact us to find out more
February 2015

Congratulations Emily Rose Billinge who came runner up in a poster competition run by the Royal Society of Chemistry. Emily, entered the competition at the Analytical Science Twitter Poster Conference in which participants tweeted an image summarising their research. To see Emily's poster on Twitter and others, search for #RSCAnalyticalPoster
Well done to Emma Blundell, 2nd year PhD student, who came runner up at the Health and Wellbeing Conference 2015 with her poster titled: Investigating the Zeta Potential of DNA-Modified Nanoparticles Using Tunable Resistive Pulse Sensing
January 2015

Happy new year! look out for some new PhD and RA positions being advertised in January.
November 2014
November passed a little to quick, thanks to David France for visiting the department and giving a great talk (http://www.chem.gla.ac.uk/staff/djf/group.html).
Things we discovered in November -
The Art of Additive Manufacturing - a super talk from Sarah Hampson
Impedance spectroscopy is difficult - although the Short course from Metrohm was a great help
Emma is an expert in demonstrating CMB015 Ethanol in Wine experiment (sub 2 hours practicals)
and one of our members really likes One Direction.


October 2014
Welcome to Sarah Hampson, Laura Mayne and Suchanuch Sachdev
September 2014

Well done to Roja Hadianamrei a recent graduate who scored the highest project mark in the year and secured herself a prize in doing so.
Good Luck with the PhD.

Back from our Izon symposium (where Emma Blundell had the best poster, clearly beating the competition - Well done!)